Rating Our Best Project Management Tools
At ADAMAPP, we deal with a wide variety of complex projects every day. And over the years, we've worked with all sorts of project management tools - each with their own pros and cons, which I'll explain below to help you find the best project management software for you.
Although I've given each one a 'rating' - this is based on our experience of using these for our own website and app development projects. There's no perfect solution that works for everyone and for all types of projects, and we are not promoting any particular planning tool. Check them out yourselves to see which one is most likely to meet the needs of your particular type of project.
What are Project Management Tools?
We've all had to manage projects of one type or another, whether it's moving home, arranging a conference or developing an app.
In some cases, you can easily manage a project using notebooks or your computer's basic software. But for anything involving multiple stakeholders and a variety of tasks, it can quickly become an unwieldy headache to keep track of who needs to do what, and by when.
That's where project management software comes in. In its most basic form, it allows you to list all required tasks and note who needs to do what.
More advanced versions have additional functionality to help make managing projects more efficient - and to help ensure everyone does what they are meant to do, on time, without you having to chase them constantly.
Benefits of Using Project Management Tools
The key reason to opt for a project management tool is efficiency. As with any new software, you'll need to allocate a little time to learn to use it properly, but in the long run, it saves time.
More importantly, these tools help ensure projects are completed on time and to a high standard. Clear timelines and job allocations mean everyone knows who is accountable for delivering what and by when.
This means you don't have to spend all your time chasing people to make sure they know when their deadline is. It's laid out clearly in the software, and in some cases, you can set up automations to send them notifications, too, to help prompt them.
Ultimately, using this type of team management software usually results in less wasted time and better project outcomes.
Rating Our Favourite Project Management Tools
I've listed below some of our favourite project tools among the ones we have tried. There are dozens - probably hundreds more - out there. But these are all good for different purposes, and I've included some low-cost and free project management tools for those working with smaller budgets and projects.
Asana 4.5/5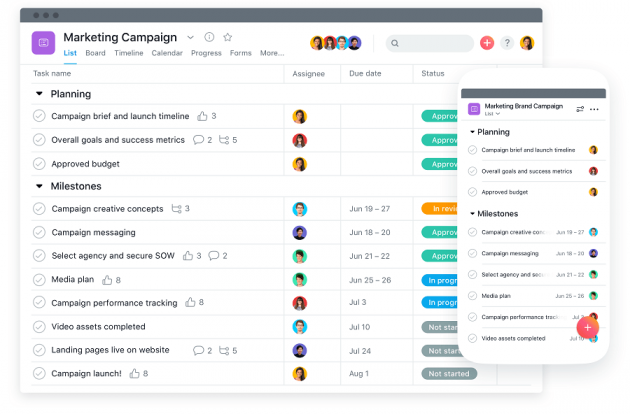 A great freemium product for project management, it lacks some agile tools useful for certain types of projects, such as software development. On the other hand, Asana is a great tool for anyone who needs an easy-to-use, cooperative solution for small to big teams.
The integration with all team members and all project elements is exceptional. The tool was designed to be utilised for a wide variety of projects, with a focus on ease of use.
But just because it's easy doesn't mean it's basic. Asana allows you to do a lot.
While you can jump in and intuitively understand it almost straight away, the more you use it, the more of its wider capabilities you will come to understand and appreciate, turning it into a more complex tool.
Best of all? It is mostly a free project management tool. But some functions you might need cost money, often at a higher price than competitors, so this won't suit all types of projects.
PROS
Flexible, fast, and modern design
Capable free version
No limits (tasks, projects, files!) for up to 15 people
Integrations in free tier
Feature-rich
CONS
Not a good choice for SW development
Higher price than competitors' for some of its functionality
Trello 4/5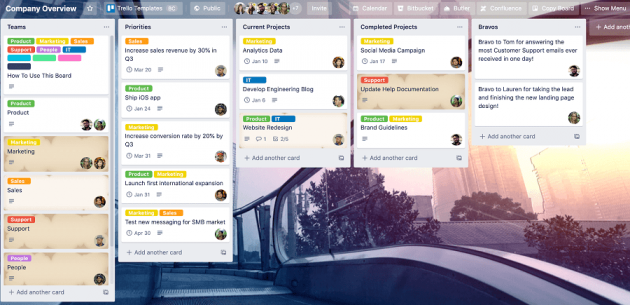 Trello is an easy yet powerful project tool. It allows you to create as many as 10 Kanban boards.
The design of the cards is smooth and you can add many "Power-ups" (one for the free tier). These are essentially add-ons that enhance the experience and bring some new features. For simple tasking and cooperation, you would hardly find a better-suited solution.
But for more complex projects, it can quickly become unwieldy, so you're probably better trying some of the options above.
PROS
One of the best Kanban board apps with plenty options for customization
Offers desktop apps and mobile apps
Easy-to-use interface
CONS
Many features require add-ons, including time-tracking and billing
No swimlanes, so best used for simpler projects
Monday 4/5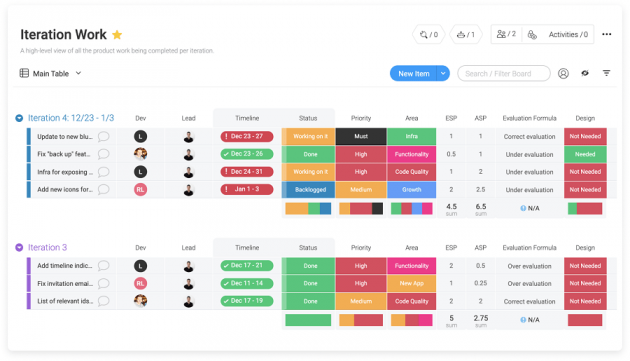 This popular team management software tool is aimed more at ongoing work than short-term projects. However, it can be used for both. While it offers a wide variety of customisation and options, the pricing structure means that you often end up paying more to manage a project than you would with some of the tools above. It's also worth noting that many users complain that its pricing structure is confusing, basing it not only on users, but also on how many 'actions', 'boards' and 'automations' you use.
If you're looking for a solution to manage both your company's daily workflow as well as a variety of smaller projects, then it's worth taking a look at.
PROS
Attractive design with a clear user interface
Highly customizable
Easy-to-use automations
CONS
Unnecessarily confusing pricing and plans
Unclear and illogical navigation options
Can quickly become expensive, particularly if you want automations
JIRA 4/5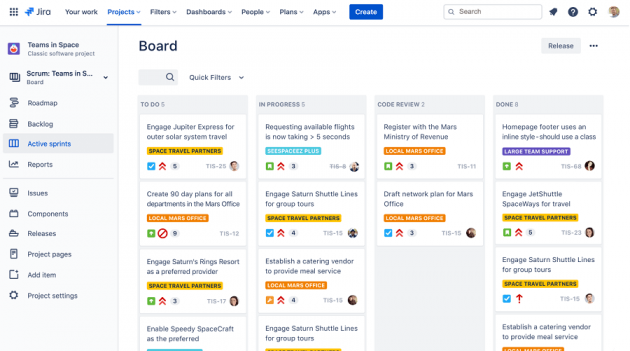 JIRA is an excellent tool that is easy to learn, but hard to master. At ADAMAPP, this is the tool we are currently using for most of our projects because of its exceptional customisation options.
Creating a project is as easy as ordering food delivery, and it allows you to set up your boards at a swift pace.
For each project, you can set up a variety of boards, notifications and more, using the vast array of options available, including plug-ins that can help turn it into a highly advanced and almost bespoke tool. What's more, JIRA allows you to connect with other software, too.
It also works as a ticketing tool and allows you to set up your CI/CD exactly as you want and need.
PROS
Great price for beginning companies and small teams
Huge array of customisation options
Easy to learn the basics
Many useful plugins
CONS
The price can scale up quickly
Overly complicated for small projects
Redmine 3.5/5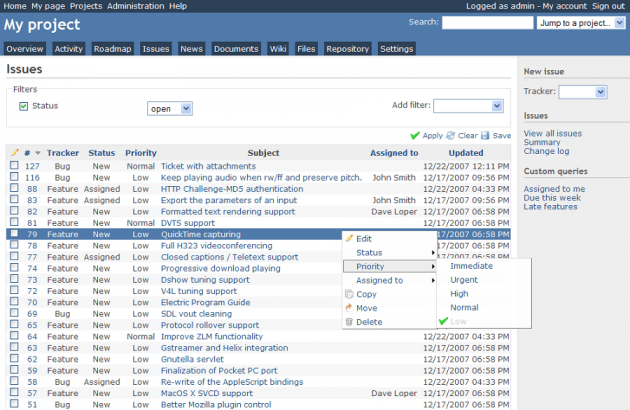 Redmine offers much of the capability of JIRA - but for free (GNU General Public License v2 (GPL)).
But as you might expect for a free project management tool, it doesn't look as polished. JIRA has worked hard to create a beautiful product that is easy to understand. Redmine is open-source software, so there's a greater learning curve, and you might need to spend more time and effort customising it to your needs.
On the plus side, Redmine offers time estimates, dependencies, Gantt charts and project wikis, for example. And similar to JIRA, Redmine has a wide variety of plugins available, some of which are free and some paid.
On the negative side, it requires self-installation and maintenance, and there's no professional support. Instead, you can get the support only from the Redmine community, which consists mostly of development teams. This can make it too complicated for some types of users.
PROS
Entirely free
Customizable
Open source
Project wiki, Gantt charts and other tools included
CONS
Requires self-installation and maintenance
No support other than community docs and online
Targeted at software developers, so can be too complex for some users without development knowledge
App development projects
If you're considering developing an app, you don't need to worry about these tools. You can hire us and we will manage the project for you. At ADAMAPP, we're experts in handling all types of complex web and app projects, and have developed apps and website for companies in a wide variety of industries. Get in touch if you'd like to discuss your project.